Influencing policy by answering the

Right Questions
IHOPE Journal of Ophthalmology (official publication of IHOPE) is a quarterly, international journal. This peer-reviewed journal provides a forum for presentation and discussion of original research articles in the field of ophthalmology. Studies related to big data analysis, public health, health economics and outcomes research will remain its primary focus. The journal facilitates the dissemination of information through original research articles, review articles, editorials, letter to editor, meta-analysis and commentaries.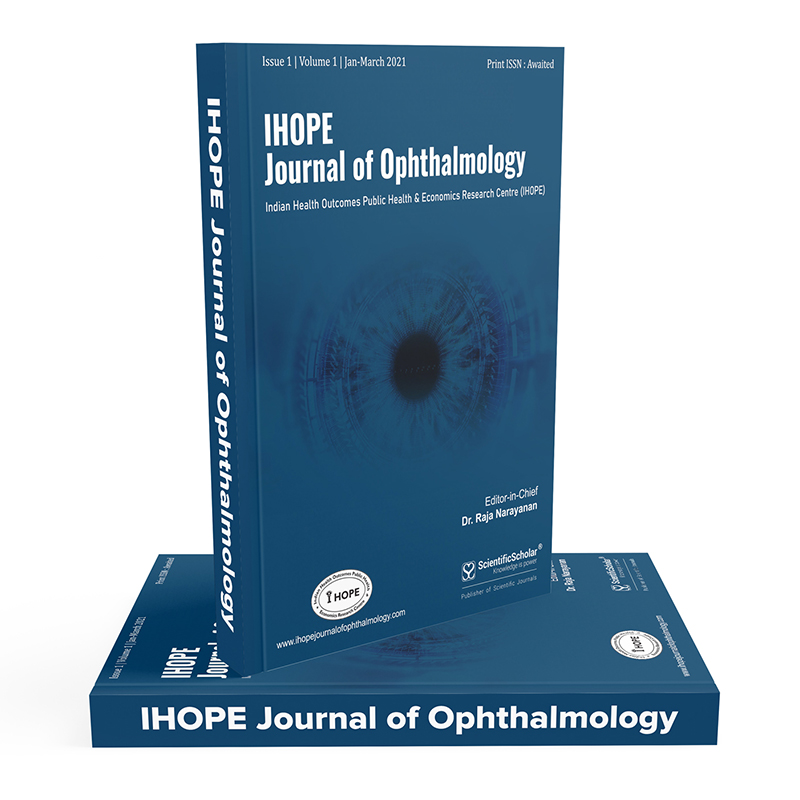 The journal aims to develop, promote and exchange scientific knowledge and co-operation between clinicians, scientists, health economists and others involved in the field of ophthalmology and public health. It proposes to address important economic and public health related questions for improving interventions and policy in eye care and more broadly in other healthcare contexts. The wider scope of this journal is to bring together experts from varied specialties who will bring in new perspectives to improve health care delivery in the world.
Dr Raja Narayanan
Principal Investigator
Director, Suven Clinical Research Centre, L V Prasad Eye Institute, Hyderabad
Dr Anthony Vipin Das
Co-Principal Investigator
Associate Director, L V Prasad Eye Institute, Hyderabad
Dr G.V.S Murthy
Co-Principal Investigator
Director, Indian Institute of Public Health, Hyderabad
Dr Rohit Khanna
Key Collaborator
Director, GPR-ICARE L V Prasad Eye Institute
Dr Vishal Raval
Consultant Ophthalmologist
L V Prasad Eye Institute, Hyderabad India
Dr Jill Keeffe
Faculty (Professor)
L V Prasad Eye Institute Hyderabad India
Dr Jacqueline Ramke
Associate Professor of Global Eye Health
London School of Hygiene and Tropical Medicine London, UK
Dr Mathew Burton
Director, International Centre for Eye Health
London School of Hygiene & Tropical Medicine, London, UK
Mr Thulsiraj Ravilla
Director-Operations
Aravind Eye Care System, Madurai, India
Dr Radhika Tandon
Dr. Rajendra Prasad Centre for Ophthalmic Sciences
All India Institute of Medical Sciences, India
Dr Ronnie George
Deputy Director
Sankara Nethralaya, India
Dr Prithvi Mruthyunjaya
Associate Professor of Ophthalmology
Stanford University Medical Center, USA
Dr Leslie G. Hyman
The Vickie and Jack Farber Vision Research Center
Wills Eye Hospital, USA
Prof. Chirantan Chatterjee
Reader in Economics of Innovation Science Policy
University of Sussex Business School