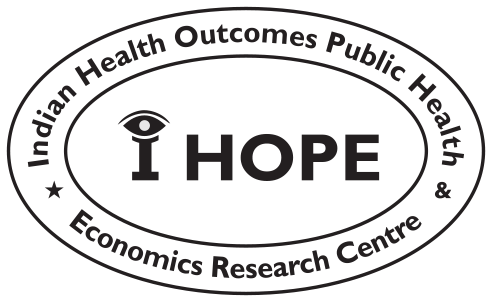 3rd Annual Conference 2023
29 & 30 September 2023 at LV Prasad Eye Institute
Last Date for submissions 15th August'22
Currently accepting abstracts for
Free papers
.
Submissions at: teamihope2020@gmail.com
Prof. Anil Deolalikar
Founding Dean of School of Public Policy
Professor of Economics, University of California, Riverside
Anil Deolalikar is the Professor of Economics and Founding Dean of the School of Public Policy at the University of California, Riverside. He also serves as the Chair of the Board of Directors of the UC Global Health Institute and the Board of Directors of the One Health Trust (Washington DC and New Delhi). He taught previously at the University of Washington, University of Pennsylvania, and Harvard University, and served as Lead Human Development Economist for the World Bank in New Delhi in 2002-03.
Deolalikar is a development economist who has published five books and nearly 75 articles on the economics of child nutrition, health, education, and poverty and social protection in developing countries. He is co-editor of The Journal of Asian and African Studies and The Journal of Developing Societies. He is an elected Fellow of the American Association for the Advancement of Science, and served as an advisory board member to the Gates Foundation on the use of cost-benefit analysis in health and development. Early in his career, he was a recipient of the Robert McNamara Fellowship for International Development awarded by the World Bank.
Deolalikar has served as consultant to several developing-country governments and international organizations, including the ADB, World Bank, UNDP and USAID, on a variety of research and policy projects.
He obtained his BA summa cum laude in economics from Harvard University, Diploma in Economics from Cambridge University, Ph.D. from Stanford University, and a Postdoctoral Fellowship in Economic Demography from Yale University.
Pilar Pinilla-Dominguez
Associate Director
NICE International
 Pilar is the Associate Director of the NICE International team. She is responsible for the strategic objectives and direction of the NICE International services, oversees all the international services provided by the team and contributes to the delivery of different international engagements through workshops, educational seminars, and international consultancy projects. She has extensive experience in delivering these services at a national and international scale and represents NICE in a series of NHS International groups.
Pilar also works in scientific advice projects in the NICE Scientific Advice team, where she contributes to the standard service providing advice on behalf of NICE and also collaborates in parallel scientific advice with other Health Technology Assessment (HTA) and regulatory agencies. She joined NICE in 2012 and worked in the Technology Appraisals and the Highly Specialised Technologies programme until 2016, when she became part of the Scientific Advice team.
Pilar holds a university degree in Business Administration and Management from University of La Laguna (Spain), and an MSc in Health Economics, Policy and Law with specialisation in Health Economics from the Erasmus University of Rotterdam (The Netherlands). Before joining NICE, Pilar worked as a Researcher in one of the Spanish regional HTA units (SESCS, Canary Islands) conducting systematic reviews and economic evaluations for the Spanish Healthcare System. She is currently on the Board of Directors for the Spanish Health Economics Association (AES).
Prof Nathan Congdon
Ulverscroft Chair of Global Eye Health
Queen's University of Belfast
Prof Nathan Congdon, MD, MPH, is Ulverscroft Chair of Global Eye Health at Queen's University Belfast and Director of Research and North Asia Advisor for ORBIS International, helping also to shape the organization's global strategic approach to diabetic eye disease and glaucoma. Prof Congdon is a Visiting Professor at Zhongshan Ophthalmic Center (ZOC) in Guangzhou, and was based there and elsewhere in China for nearly ten years until 2015.  
He received an AB degree from Princeton University and an MPhil from Cambridge in the UK, both in Oriental studies, and is fluent in written and spoken Chinese.  His medical and public health education were at Johns Hopkins University, where he pursued an ophthalmology residency at the Wilmer Eye Institute.
Prof Congdon's work has focused on the design and evaluation of high-quality, low-cost models of eye care delivery in areas of limited resources throughout the world, which frequently involves NGOs working together with academic institutions in Asia and the west.
In addition to other recognitions, Prof Congdon has received the Asia Pacific Academy of Ophthalmology's highest prize for blindness prevention work in 2009, a Chinese government Thousand Man Plan award in 2011 and a Wellcome Trust Investigator Award in 2021. Additionally, his research has been supported by the UK government MRC, EU, World Diabetes Foundation, USAID, WHO, World Bank, the United States NIH, several NGOs and the governments of China and Hong Kong. He has over 260 peer-reviewed publications in journals including Lancet Global Health, BMJ and JAMA.
Dr Mehul Mehta
Chief Medical Officer
Albright Stonebridge Group
Mehul Mehta, MD, is the Chief Medical Officer at ASG and leads the firm's Health practice. He draws on decades of global healthcare, medical education, and life science research systems experience to advise and assist clients on the development and implementation of healthcare, education, and research systems in markets around the world while also providing healthcare inputs to ASG and its teams.
Previously, Dr. Mehta held distinguished leadership positions at Harvard Medical International and at Partners Healthcare International, where he oversaw global strategy, program development, and operations implementation in over 30 countries. At each, he worked to reform healthcare delivery systems and educational and research entities around the world, with an emphasis on building capacity, creating and implementing sustainable healthcare models, and building research systems. He also served as a Senior Fellow at the Harvard Global Health Institute, where he was the faculty lead on the technology and health initiative, specifically focused on AI in global health. He continues to be a member of the Department of Ophthalmology at Harvard Medical School, where he has been since 1997, and to be on the Honorary Clinical Staff at Massachusetts Eye & Ear in Boston.
Dr. Mehta completed medical school with honors at the University of Bombay in India, and his clinical training in retinal diseases at Harvard Medical School and Massachusetts Eye & Ear. He completed his post-doctoral research at the Schepens Eye Research Institute of Harvard Medical School. He also holds an M.A. in Cognitive and Neural Systems, focused on neural networks and AI, from Boston University. Earlier in his career he was a consultant in the healthcare practice at McKinsey and Company. Dr. Mehta sits on the boards of non-profit health care entities, including the American Nurses Foundation, and continues to teach and publish on global health. He is fluent in Hindi and other Indian languages.
Dr. Mehta is based in Boston.
Dr. R. Kim
Aravind Eye Hospital, Madurai
Dr. R, Kim
Chief Medical Officer
Senior Medical Consultant, Retina & Vitreous Services
Director, Information Technology & Systems
Aravind Eye Hospital, Madurai
Dr. R. Kim began his career as Consultant in Vitreous Retina Services at Aravind eye hospital, Madurai and later became the chief of the clinic. He is the Director of Aravind's telemedicine network and IT services. He is also the Chief Medical Officer of Aravind Eye Hospital, Madurai.
Dr. Kim graduated in medicine in the year 1988 from Siddhartha Medical College, Vijayawada. He completed Diploma in Ophthalmology from Aravind Eye Hospital, Madurai in the year 1991 and Diplomate of National Board from Aravind Eye Hospital, Madurai in the year 1994.
He has published several research papers in peer reviewed International Journals, State Journals; 3 Publications about Teleophthalmology and has authored 2 book chapters
Recognition & Awards:
He has won the Lifetime Achievement Award at the 33rd Asia-Pacific Academy of Ophthalmology (APAO) Congress held at Hong Kong.
Best Doctor Award by the Tamil Nadu Dr. M.G.R. Medical University at the Silver Jubilee celebrations of the University.
Sudha Sutaria Vitreo Retinal Oration Award – Vidharbha Ophthalmic Society, Nagpur.
Rustom Ranji Oration Award at the Annual Meeting of Andhra Pradesh Ophthalmological Society.
Rhett Buckler Award for the best video screened at ASRS (American Society of Retina Specialists) film festival held at Vancouver, Canada.
Madhu Viswanathan
Indian School of Business
Prof. Madhu Viswanathan
Associate Professor of Marketing
Indian School of Business
Madhu Viswanathan is an Associate Professor of Marketing at the Indian School of Business (ISB). Prior to joining ISB, he worked as an assistant professor at University of Arizona.
Professor Viswanathan's research work focuses on the role of distribution channels, B2B relationships, salesforce compensation and its impact on marketing mix elements like prices and assortments. His work has been published in Journal of Marketing Research, a premier journal in marketing. He has consulted and worked with companies spanning a wide range of industries including retail, insurance and healthcare.
Prof. Viswanathan received his PhD from the University of Minnesota, Twin Cities and his undergraduate from BITS, Pilani.
Dimitra Petrakaki
University of Sussex Business School
Dimitra Petrakaki
Professor of Technology and Organisation
ESRC-funded Digital Futures at Work Research Centre
University of Sussex Business School
Dimitra Petrakaki is a Professor of Technology and Organisation at the University of Sussex Business School and Co-Investigator of the ESRC-funded Digital Futures at Work Research Centre. Her research interests revolve around the interaction between technology and work organization and its implications for professional re-skilling; social value creation; emergent forms of activism and (de)coloniality, primarily in the context of healthcare. Recent projects focus on digital health platforms in the Global South; the application of AI in the job interview process and the role of crowdfunding platforms as a way of re-organizing the creative industry. Her work has been funded by the Wellcome Trust, BA/Leverhulme, ESRC and UKRI. She is an Associate Editor for the Information Systems Journal, and an Editorial Board Member for the New Technology, Work & Employment and the International Journal of Information Management.
Tanika Chakraborty
Indian Institute of Management
Prof. Tanika Chakraborty
Associate Professor
Indian Institute of Management Calcutta
Tanika is an Associate Professor at the Indian Institute of Management, Calcutta. Formerly, she worked at DIW, Berlin, and at the Indian Institute of Technology, Kanpur, after completing her PhD in Economics from Washington University, St Louis. She is a Fellow at the Institute for the Study of Labor (IZA) Bonn, CESifo Munich and the Global Labor Organization.
Tanika's research interests span a wide range of issues in Labor and Development Economics with a special focus on Gender. More recently she has been working on the public and private health insurance market in India. Her research has featured in the Journal of Development Economics, Journal of Economic Behavior and Organization and Demography among others.
Tanika has undertaken research and consulting projects funded by ICSSR, IDRC Canada, DFID, UNICEF and various ministries of the Government of India. She has served as an expert in the Minimum Wage Committee of the Government of India.
Dr. Deepshikha Batheja
One Health Trust
Dr. Deepshikha Batheja
Post-Doctoral Fellow
One Health Trust 
Deepshikha Batheja is an Economist and Fellow at One Health Trust ( formerly Center for Disease Dynamics, Economics and Policy (CDDEP))
India Deepshikha has a Ph.D. in economics from University of California, Riverside.
Deepshikha Batheja's broad research interests are in the fields of development, health economics and labor economics. Her research examines the determinants of labor force participation and worker productivity in developing countries. A key thread in her research has been the impact of gender on economic, social and health outcomes. Deepshikha uses real-world data and often relies on randomized controlled trial (RCT) methodology to test economic theory and inform policy.
She has research received funding support from International Growth Center (IGC), JPAL under their Post-Primary Education (PPE) Initiative, BLUM Initiative, China-India Visiting Scholars Fellowship and MSD Fellowship for Global Health. Her research work has been featured in World Bank Development Impact Blog, Ideas for India, IGC Blogpost and Hindustan Times (leading daily in Ind
Dr Babar Qureshi
CBM Christian Blind Mission
Dr Muhammad Babar Qureshi
Director
Inclusive Eye Health and Neglected Tropical Diseases
Christian Blind Mission
Dr Muhammad Babar Qureshi's career has been dedicated to improving the lives of those affected by vision impairment and blindness around the world. His commitment to advocating and working for inclusive, equitable and integrated eye care services for everyone has resulted in significant progress and positive change.
He was born Pakistan and then moved with his family to Nigeria, where he was educated and where he graduated as a medical doctor. He did his Residency in Ophthalmology in Nigeria and Austria, followed by his Master's in Community Eye Health in London. After working as an ophthalmologist in Nigeria for eight years, he moved back to Pakistan where he was the Secretary of the National Committee for the Prevention of Blindness, the Secretary of the National Trachoma Task Force and the Director of Academics and Research for the Pakistan Institute of Community Ophthalmology. He was also the Executive Director of the Comprehensive Health and Education Forum International in Pakistan for seven years.
In 1997 he became a Medical Advisor for CBM and is currently the CBM Director of Inclusive Eye Health and Neglected Tropical Diseases and is based in Cambridge, UK. In addition, he is Chair of the Eastern Mediterranean Region Alliance for Trachoma Control and the Trachoma Expert Committee.
Recently, he became a member of the Ophthalmology Foundation Board, in April 2021 was appointed as the Vice President to the board of the International Agency for the Prevention of Blindness (IAPB).
Dr Qureshi has received much recognition, both nationally and internationally, for services in the prevention of blindness, including the Prince Abdulaziz Bin Ahmed Al Saud Award, the President of Pakistan Noval Christy Award, the Champalimaud Vision Award and the IAPB Vision Excellence Award.
Dr Sobha Sivaprasad
Moorfields Eye Hospital, London
Prof Sobha Sivaprasad
Consultant Ophthalmologist
Moorfields Eye Hospital NHS Foundation Trust
Professor Sobha Sivaprasad is a Consultant Ophthalmologist in Moorfields Eye Hospital NHS Foundation Trust and a Professor in Retinal Clinical Research in University College London. She is the Director of the Moorfields Clinical Research Facility. She leads the Retina Clinical Study Group within the UKCRN Ophthalmology Subspeciality and is the Chair of the Scientific Committee of the Royal College of Ophthalmologists.
Her main research interests are clinical trials, retinal imaging and risk prediction. She has led several multicentre studies in the UK and is a Steering Committee Member of the R.E.T.I.N.A global research collaboration. She also works very closely with industry and has been the Chief Investigator, data monitoring committee member or steering group member of global and national trials, She has over 400 peer reviewed publications and her total research grant income stands at over GBP 18 million including the UKRI funded ORNATE India project.
She has received several accolades for her research including the National Institute of Health and Care Research (NIHR) Senior investigator award 2022, the NIHR RCOphth Researcher of the year in 2017, Macular Society Rising Star Award in 2017 and is a member of Academia Ophthalmologica Internationalis and the Macula Society. She works collaboratively with many institutions both in the UK and globally and has been the Editor-in-Chief of Eye from January 2018.
B.R.Shamanna
University of Hyderabad
Prof. B.R.Shamanna
Professor, School of Medical Sciences
University of Hyderabad
Prof. B.R. Shamanna completed his medical education from Karnataka Medical College, Hubli, and his Doctoral studies (MD) in Community Medicine from the All-India Institute of Medical Sciences, New Delhi. He also holds a double Diplomate of the National Board in Maternal & Child Health as well as in Social & Preventive Medicine. He completed his M.Sc. from University College London with distinction in Community Eye Health and recently he secured a Post Graduate Diploma in Medical Law and Ethics from the National Law School of India University, Bengaluru, India. He has also completed a prestigious fellowship program and is designated as a PH-LEADER through the NIH supported Public Health Leadership Academy of Implementation Sciences at Emory University, Atlanta, Georgia, USA.
Prof. Shamanna has been closely associated with the development and implementation of activities of two large WHO Collaborating Centres for Prevention of Blindness in India, first with the Lions Aravind Institute of Community Ophthalmology of the Aravind Eye Care System in Madurai and with the International Centre for Advancement of Rural Eye Care of the L.V. Prasad Eye Institute, Hyderabad.
He is a visiting faculty to the Masters in Public Health Eyecare program at the London School of Hygiene and Tropical Medicine since 2002 and an Adjunct Faculty with the Public Health Foundation of India.
His interests are Health & Welfare economics, Disability Inclusive Development, Education and teaching methods, Implementation Research in Health Sciences, and Alternative opinions and Politics in Health Care. He started the Masters in Public Health and PhD program in Health sciences – Public Health at the University of Hyderabad, India
Dr. Sudha Chandrashekar
National Health Authority
Dr. Sudha Chandrashekar
Executive Director, National Health Authority
Ministry of Health and Family Welfare
Government of India
Qualifications–MBBS, MD, DIH, MPH (Spain), AFHEA (UK)MPhil (UK) 
Experience–In medical, academics, research and administration fields: 24 years
Dr Sudha is a medical doctor, public health specialist, trained health and pharmaco-economist. Her areas of interest are Health economics and Universal Health coverage
She has worked in institutions like NIMHANS, Medical college as Professor, St. John's Research Institute, Faculty at the London School of Hygiene and Tropical Medicine (UK),  Director, Medical at  Suvarna Arogya Suraksha Trust, Department of Health, Government of Karnataka, World Bank.
Awards–
She won Best paper awards Ashwath, Mohanmal Award and Mahadevan award for Research in Industrial Medicine.
Best paper award National conference of Indian Academy of allergy.
Young Scientist Award Indian Association of Occupational Health and also from Karnataka Association of Community Health.
Global Health Leadership Award (2009) by the Global Health Research Initiative (GHRI)-International Development Research Center (IDRC), Canada
Ariz Rizvi
Senior Vice President & Head
Health Risk Management
Aon India
Ariz leads the Workplace Health Practice at Aon India. He has over 20 years' experience in workplace health and insured benefits. He is a qualified composite insurance broker and works with organizations in designing their workplace health and insurance requirements. Over the past years he has actively participated in industry forums such as CII and FICCI while actively supporting increased health insurance penetration in the country.
In the past Ariz has worked for Apollo Life, Marsh & McLennan Companies Inc, Convergys and GE Money Servicing
Dr Bala Sridhar
Healthcare UK
Dr Bala Sridhar
Healthcare UK Export Catalyst & NHS Specialist
Healthcare, Life Sciences and Chemicals Directorate
Department for International Trade
Bala is a life science graduate with over 32 years of experience in the NHS. He specialised in Informatics, delivering technology-enabled service transformation programmes and projects across multiple sectors and specialities but also worked in Clinical Research, Clinical Trials (Phase II and III), Strategic Service configuration and Planning, and Information Analysis.
Bala has worked across Primary, Secondary, Tertiary, Community, Mental Health and Public Health sectors gaining in-depth knowledge and understanding of the NHS service configuration, culture, its strengths, inter and intra- dependencies, governance, and expertise on cross-boundary (integrated) workflow and data sharing. 
In his current role with the Department of International Trade, Bala works with organisations within the NHS ecosystem, helping and enabling them to become export ready. Upskilling and supporting colleagues in the UK HQ and across the various embassies, consulates and High Commissions to promote and raise the UK healthcare profile internationally, identify and lead opportunities. He also works at the Walton Center for Neurology leading their Digital Transformation Programme.
Bala has extensive experience in various disciplines, including health technology, data science, service transformation, business solution analysis, business development, benefits realisation, procurement, contract negotiation and monitoring, informatics, organisational change, programme and project management.
After 12 years in London, Bala relocated to the Wirral in 2000 and worked at The Christie Hospital NHS Foundation Trust, Manchester as a Senior Manager for 13 years. Before joining Healthcare UK, Bala worked at Alder Hey Children's Hospital. 
Stay tuned for more updates
IHOPE Conference 2022 - Research to Policy
Prof. Manoj Mohanan, Sanford School of Public Policy, Duke University
Prof. Matthew Burton, London School of Hygiene and Tropical Medicine
Welcome Address by Dr G.N.Rao & Introduction by Dr Raja Narayanan